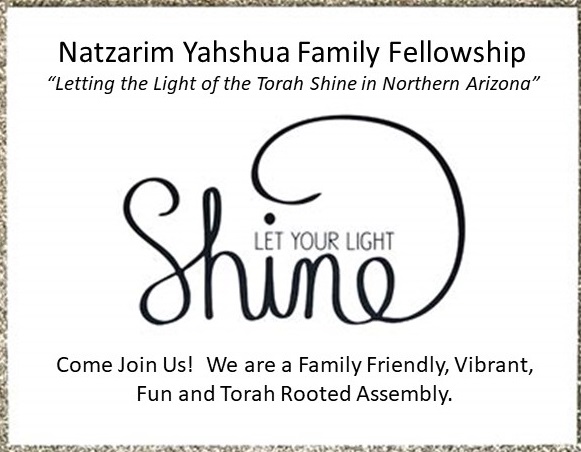 Shalom and thank you for visiting the Natzarim Yahshua Family Fellowship web-page. We are a home based, Torah observant, Hebrew Roots fellowship located in Northern Arizona. Each Shabbat we gather for fellowship in a member's home, just as the original Disciples did in the first century.
Each week our service consists of devotional music, Davidic and flag dance, reading of the weekly Torah Portion (parasha), enjoying a biblically clean food fellowship potluck, conducting Teen Torah and Torah Explorer break out sessions for children of all ages, presenting a weekly message and conducting a mid-rash session.
We invite you to join us as we shine our Torah light bright in Northern Arizona. If you have questions, feel free to get in touch with us using the contact us menu tab. Shalom and Blessings in Messiah Yahshua to you and your families.
"Whoever will do and teach [my commandments] the same will be called great in the kingdom of heaven," Matthew 5:19.
How We Got Started
Originally, there were a couple of families that would gather on Shabbat in a home. During planning meetings for the Feast of Sukkot, we quickly found that there were even more similarities within the group. A few weeks before Sukkot, the core families started meeting and keeping Shabbat together. In our obedience in keeping His commands, it was during Sukkot when we were blessed with even more people that shared similarities in the faith. Since the conclusion of Sukkot, we have experienced steady growth. What started off as a group of individuals that thought they were the only ones in Northern Arizona keeping Torah, has quickly turned in to many families that now know there are others out there keeping Torah in Northern Arizona. It was at Sukkot that we held name the assembly event. Suggestions were given anonymously, Natzarim Yahshua won. After a brief discussion, we modified it to the current name, Natzarim Yahshua Family Fellowship.
Our Purpose
The purpose of Natzarim Yahshua Family Fellowship is to study, obey, and teach the commandments of Yahweh, our heavenly Father, and Yahshua, His Son. Are we Judaizers? No. The Judaizers taught men to obey the traditions of man. We are teaching them to obey the commandments of Yah. His instructions are timeless and set in place to be obeyed by all peoples.
Are we trying to earn our salvation through legalism?
No. We know and teach that coming into covenant with the Almighty through accepting Yahshua's sacrifice for ourselves by His grace is the only thing that can save us and that this does not come by our own works.
Then why do we study, observe, and teach the Torah (Instructions in the books of Moses)?
Instead of giving you a long, theological dissertation on our reasons for keeping Yah's instructions, we can explain it simply in six words: "Yahweh said it, that settles it". If you want a longer answer that still does not involve the tainted reason of human theology, we must turn to the Scriptures (that is always a good thing to do anyway). One reason was already mentioned: That we may be called great in the kingdom (Matthew 5:19). Here are a few more: We want Yahweh's blessing to make us fruitful like a burgeoning tree (Psalm 1); We want to have access to the Tree of Life and enter into our Father's city through the gates (Revelation 22:14). We love Him (John 14:15); We want to be assured of our redemption (I John 2:3); We want to demonstrate our faith (Romans 3:29-31, James 2:14-20).
Beyond that, our purpose is to gather together on the Sabbath and on the feast days that we may spend time in Yahweh's presence and in each other's company as we learn together what it means to follow Him in the way that He planned and revealed through the Scriptures and through the obedient life of the Son, our Master Yahshua. We are not a "church" in the Grecko-Roman sense of the word, but simply a family who loves each other and comes together to worship the Creator and Ruler of everything that exists.
Statement of Faith
We believe and affirm that "all scripture is breathed out by Elohim and is profitable for teaching, for reproof and for setting straight for instructions in righteousness that the man of Elohim might be fitted, equipped for every good work" 2 Timothy 3:14-16. We will always default to His word, from Genesis to Revelation.
We believe and affirm the Almighty Elohim (creator) has a name and we believe it to be יהוה (Yahweh). We don't judge people for how they pronounce His name. (Exodus 20:7; Leviticus 22:2; Deuteronomy 28:58)
We believe and affirm the Son of Yahweh's name is יהושע (Yahshua) and He is the Messiah, the anointed one, to be both King and Savior. Yahshua's name literally means Yah is Salvation. We affirm that we are to keep and guard the commandments, instructions and Torah, just as Messiah himself instructed us to do. (John 14:15; Matthew 22:37-40; Deuteronomy 6:5; Leviticus 19:18; Matthew 5:17-20; John 14:21-24; 1 John 3:4; John 14:6)
We believe and affirm that the Leviticus 23 appointed times (Moedim) are still in effect and applicable to us today. The first moedim is the 7th day Sabbath, from sunset Friday to sunset Saturday. No ordinary work shall be done during this set-apart (holy) time. We also observe and keep the commanded set-apart days: Pesach (Passover), Matzot (Unleavened Bread) Bikrim (First Fruits) Shavuot (Pentecost) Yom Terruah (Day of Trumpets) Yom Kippur (Day of Atonement) Sukkot (Tabernacles).
We believe and affirm that the Leviticus 11 dietary instructions are still applicable to us today and we follow them. We eat only Biblically clean food and refrain from eating things that are not identified as food, such as pork, shellfish and so forth.
We believe and affirm that repentance (teshuva – to turn back towards) is necessary for salvation and that baptism in the name of Yahshua is required. (Luke 13:3; Acts 4:12; Isaiah 54:5; Isaiah 43:10-11; Luke 24:45-47; Ezekiel 33:11; 2 Peter 3:9; 1 Timothy 2:3-4)
We believe and affirm that there is a judgment for those that do not follow the instructions (commands) of יהוה (Yahweh) and יהושע (Yahshua). (Matthew 25:46; 1 Corinthians 4:5; 2 Corinthians 5:10; Revelation 20:11-15; Matthew 8:11-12; Matthew 13:24-30; John 3:18)
We believe and affirm that marriage is between man and woman. (Genesis 2:18-24; Matthew 19:3-5)
We believe and affirm that there is one law for both Jew and gentile. (Exodus 12:49; Numbers 15:15-16; Leviticus 24:22)
The purpose of Natzarim Yahshua Family Fellowship is to raise up Sheppard's and leaders, as we are commissioned to make fishers of men and spread the good news of the gospel. We are active participants in family of Yahweh. We encourage everyone who has gifts to use them. (1 Corinthians 12:12-31; 1 John 2:12-15)
We will train up children in the way that they shall go and they shall not depart from it when they grow old. (Proverbs 22:6)
We do not support or allow antisemitism in any manner, at any point or at any of our functions. (Romans 11:18; Exodus 12:49; Numbers 15:15-16; Leviticus 24:22)
If you have questions and would like to contact us, you can call (928) 830-5187. Thank you and Shalom